Our business is fully licensed, bonded and insured, so you know you're doing business with reputable professionals.!
Now Hiring! We are looking for employees with a good work ethic, honesty, and being physically reliable.
We're Here For You
We know that you need us now more than ever because a clean home/office isn't just a happy home/office — it's a safer, healthier one too. You are our #1 priority.
Now included with every house cleaning, in keeping us all safe: All Techs arrive with clean sanitized equipment. They wear their PPE Protective gear. Masks, gloves and foot protection on request. They wash their hands and they get there and when they leave. And Follow the social distancing 6′ rule.
PEACE OF MIND HIGH TOUCH SANITIZE SERVICE Is included for free in every cleaning" Who has time to keep up with the cleaning of your home or office? Let the experts at Integrity Pro Cleaning professionally clean your home or office! Call us today! It's more affordable than you think!
Integrity Pro Cleaning wants to be your first and only choice for cleaning services today and in the future! When you hire us for your home or office cleaning, you can expect the best quality, most thorough and professional cleaning services available! We know you have many options for cleaning services, but there is only one that stands out above all the rest… and that is integrity Pro Cleaning! Have questions? Call 661.713.0436
---
Cleaning Services in Palmdale, CA
Integrity Pro Cleaning provides residential and commercial cleaning and organizational services to customers throughout Palmdale, CA. Call us for a thorough cleaning and results that feel as good as they look! Whether you need a one-time cleaning or recurring service, we'll make sure your expectations are met every time. Don't put off a clean home or business for one second longer!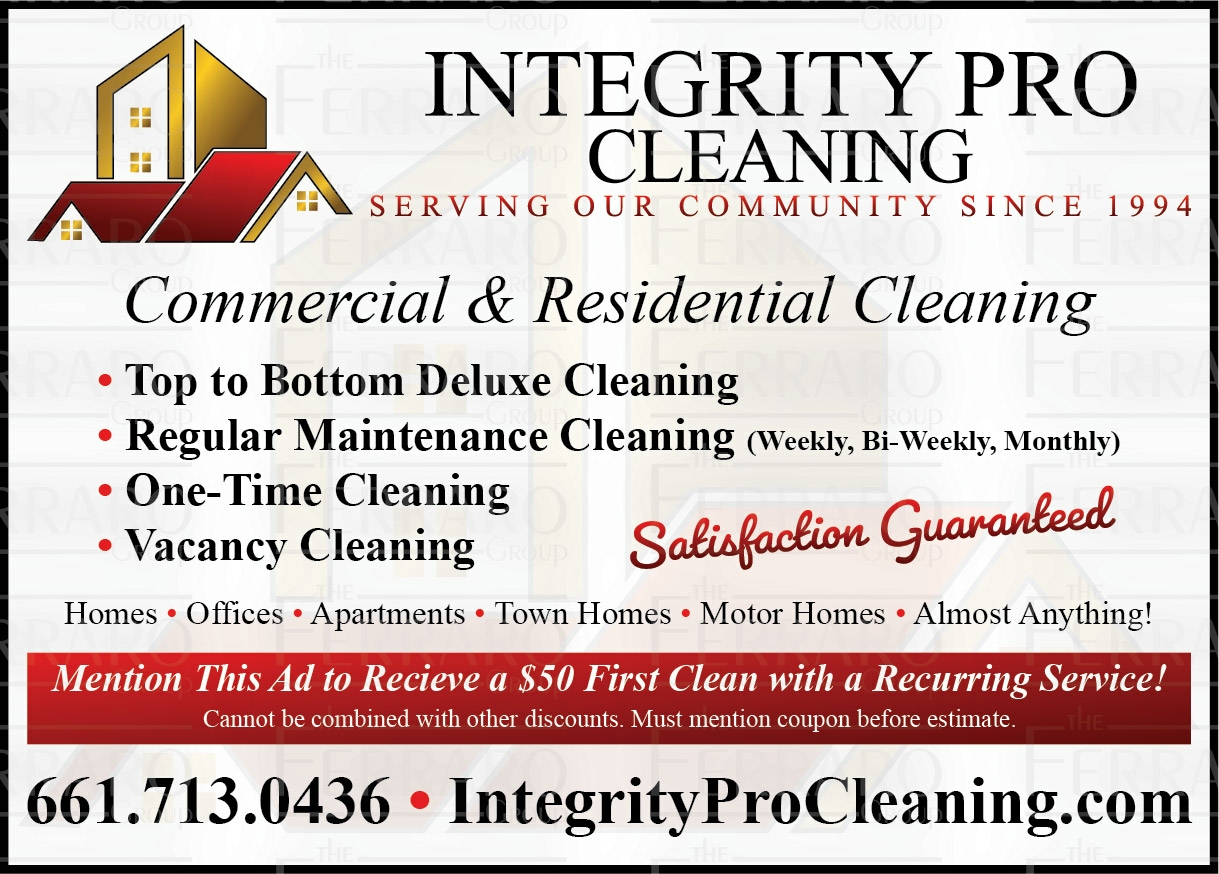 We are here to simplify the lives of our customers in Palmdale CA and surrounding areas
Our sole mission is to exceed your satisfaction by providing a superior cleaning service that separates us from average companies. When you're looking for a commercial or residential cleaning service that you can trust, look no further than Integrity Pro Cleaning. We offer the following services:
Home & Office Cleaning
Weekly and Bi-Weekly Cleans
Laundry with Light Housekeeping
One Time Cleans
Apartments, Duplex & Townhouse Cleans
Vacancy Cleans
Move In & Out Cleans
Before & After Party Cleans
Construction & House Remodel Cleans
Cleaning with Integrity: Results that Speak for Themselves
Anyone can run a vacuum over the floor and call it clean. At Integrity Pro Cleaning, that's not enough for us. We want you to experience our cleaning services in Palmdale, CA with every sense of your body—see it, feel it and even smell it! We pull out all the stops to deliver cleaning services that are next-level.
Our cleaning professionals have more than 29 years of experience. We know what customers want to see from a cleaning company in Palmdale, CA. More importantly, we know how to deliver those results. Count on us to clean your home or business, getting into all those hard-to-reach areas and using products that deliver above and beyond the ordinary level of cleanliness. We vacuum, dust, sanitize and more, across all surfaces of your home or business. Whether you need a special visit to get everything reset back to clean or want us to come on a schedule for routine cleanings, we're here to clean in whatever capacity you need.
Learn More
Need a little help beyond just cleaning? We also provide home organizational services, including for closets, offices, basements, garages and more. If things seem cluttered or hard to navigate, give us a call. We'll put everything in its place to make these spaces more appealing and accessible. We're the all-in-one solution to your cleaning and organizational needs! Call us today and experience them for yourself.
Few cleaning companies can match our experience! We've been bringing a clean, orderly shine to homes and businesses for more than 29 years.
Our business is fully licensed, bonded and insured, so you know you're doing business with reputable professionals.
We offer both one-time cleanings and scheduled services. Call us today for a one-time cleaning or set up recurring cleanings with us to make sure your home or business stays sanitary.
We're happy to provide upfront pricing for all of our services. Just let us know the level you need your facilities cleaned to and we'll write up a quote for you.
We're proud winners of Antelope Valley's Best Cleaning Award from the Antelope Valley Press (2015).
Neat and Tidy Does it!
Nothing beats a professional touch when it comes to cleaning and organizing your home or office! Call us for superior results, with everything neat, orderly and in its place.
Providing residential and commercial cleaning services to Palmdale, CA, and surrounding Antelope Valley communities:
Lancaster, CA
Rosamond, CA
Quartz Hill, CA
Sun Village, CA
Mojave, CA
California City, CA
Acton, CA
Littlerock, CA
Pearblossom, CA
Boron, CA
North Edwards, CA
Tehachapi, CA